When you use the WP Express Checkout plugin to sell goods and/or services from your WordPress website, the good news is that your eligible customer base will be able to select to pay with Venmo.
Venmo is owned by PayPal and thus is an additional payment option on offer to those customers who reside within the United States. It allows you to pay with a debit or credit card, or with your Venmo account balance. Being able to offer Venmo while still offering PayPal gives your customers greater payment choices.
When you install and activate the WP Express Checkout plugin, the option to pay with Venmo is enabled by default. Those that meet the eligibility criteria to use Venmo (reside in an eligible location) will automatically see the 'Pay With Venmo' button for goods/services you sell from your website.
Table of Contents
---
Eligibility for Venmo Option
The Venmo payment option will only function if the following conditions are met.
US-based sellers and US-based buyers only.
Transaction must be in USD.
Buyers on mobile devices must use Safari on iOS or Chrome on Android.
Buyers on desktop web browsers can use any major web browser.
Buyers must have the Venmo iOS or Android app installed.
Has to be for One-time payments (not recurring payments).
If you are testing the Venmo payment option on a mobile device, ensure that you fulfill points 3 and 5 as listed in the above checklist.
Enabling and Disabling the Venmo Payment Button
By default, when you install and activate the WP Express Checkout plugin and create a product, eligible customers will see the option to 'Pay with Venmo' beneath the 'Pay with PayPal' button. While most merchants wish for their customers to have multiple payment choices, if for any reason you wish to exclude Venmo from the payment options, you can disable it by completing the following steps:
Click on the 'WP Express Checkout' 'Settings' menu.
Scroll towards the bottom of the 'General Settings' tab until you notice a section titled 'Disable Funding'.
You can simply mark the checkbox next to 'Venmo' to disable this funding option.
Ensure you scroll to the bottom of the page and click the 'Save Changes' button. When you mark the 'Venmo' funding option to disable it, your customers will not be able to use Venmo to make a payment for goods/services you sell via the WP Expess Checkout Plugin.
---
How Will My Customer Pay with Venmo?
The Venmo payment button will appear amongst the PayPal checkout options within the popup window once the customer clicks the 'Buy Now' button. If the customer wishes to pay with Venmo, they can simply click the 'Venmo Checkout' button and fill in the details within the popup window to make the payment.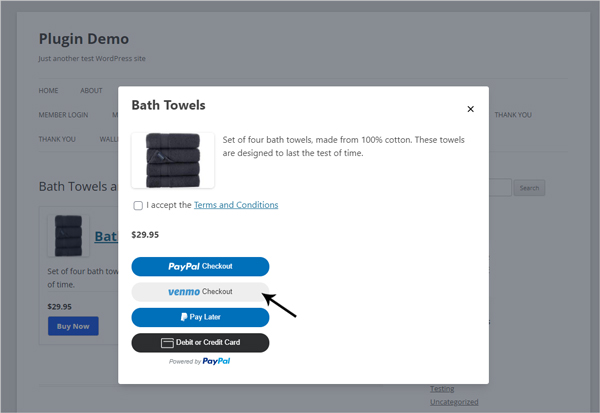 If you have chosen to disable 'Venmo Payments' the option will not appear in the popup window. Your customers will only have the standard PayPal options. This is displayed in the screenshot below.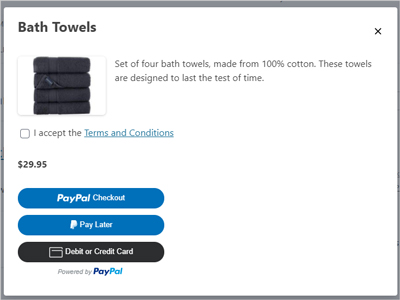 ---